2019 Junior and inter-school Christmas Competition
| Monday 9th - Sunday 15th December 2019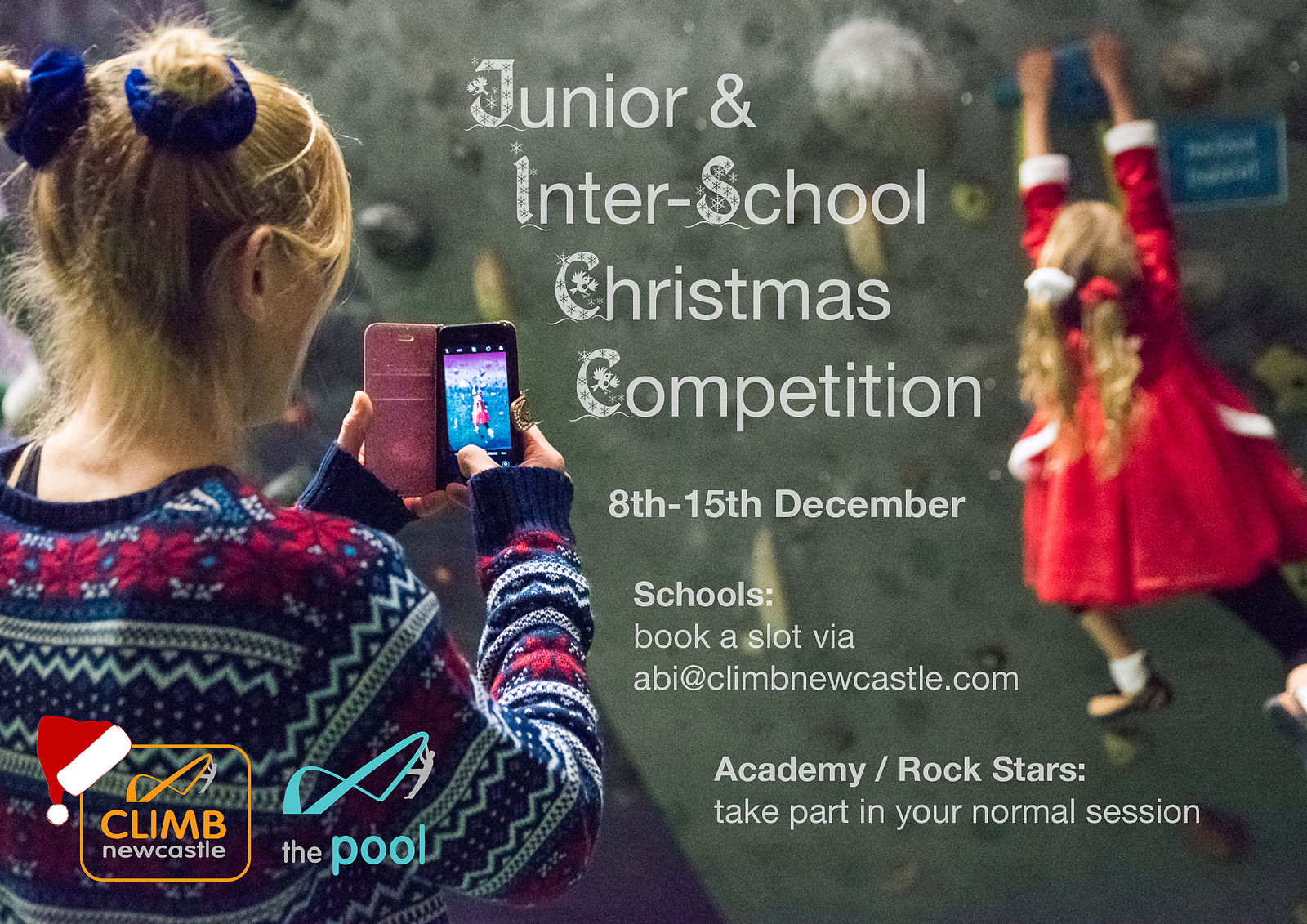 A Junior and Inter-School Christmas Competition will be held at Climb Newcastle between 8th and 15th December 2019. Just a bit of fun before the big Christmas break, all participants will receive a special certificate on the day as well as a little christmas gift from us.
Entry Forms and Information
For school groups:
Please download entry forms here for your entrants and distribute for parental signatures. You will need a 60 minute slot at the centre to climb in - please contact the centre to arrange a slot by e-mail to abi@climbnewcastle.com. Entry is £8pp including VAT.
For Rock Star / Academy participants:
There will be an opportunity to try out the climbs in the sessions on the weekend of 14th/15th December. Scorecards can optionally be submitted towards the fnal results.
If you already climb at the centre unsupervised you can come and try the problems any weekday evening during the week after school. There's no need to book a slot, just come on down - a staff member will be on hand to answer questions.
The teacher's category - to enter you must be a teacher at a school or college in the region and can climb in an individual slot or with your group if you're bringing one - if you already climb with us then there is no need to fill out an entry form, just collect a scorecard when you arrive.
Competition Rules
In order to enter the event, competitors should have climbed before or be under the supervision of a Climb Newcastle coach for the duration of their climbing time.
Categories will follow the IFSC (International Federation of Sport Climbing) system:
Youth A those born in 2002 & 2003
Youth B those born in 2004 & 2005
Youth C those born in 2006 & 2007
Youth D those born in 2008 & 2009
Youth E those born in 2010 & 2011
There is also a category for school/college teachers – you must be a teacher at a North East school or college (area as stated below).
Competitors should be resident in the North East (Northumberland, Tyne and Wear, County Durham or Teeside) or be a student at a North East school or college.
Each Problem starts with hands on the marked (taped) handholds.
A successful attempt will finish matching the last hold in control with two hands.
Volumes and aretes are in on all problems, use them wisely and ask a member of staff if you aren't sure what this means.
You have 60 minutes to try the problems. Points are awarded as follows... 10 points for a successful 1st attempt, 7 points for 2nd attempt, 4 points for 3rd attempt & 1 point for any go thereafter.
Each school is permitted to enter as many individuals as they wish and scores will be pooled with other school members even if they did not attend as part of a school group.
School rankings are calculated as the sum of the top 3 individual scores in an age category.
There are no individual prizes. Rather, certificates and a small gift will be provided to all competitors.
Results will be announced online after the event.
The judge's decision is final.